How a decade-old heavy-duty truck can stay at the top of its segment
The Ram 2500 hasn't seen a major redesign in almost ten years--since the last generation was released back in 2009. For most vehicles, that would be a death sentence: almost a full decade without a big structural change? Without a complete revamp of powertrains and engine? Without the modern touch of today's fast-paced lifestyle? Any other vehicle would have dropped out of the race by now.
But any other vehicle isn't the Ram 2500: the solid, hard-working, muscle-bound workhorse of the Ram heavy-duty lineup; a truck defined by sticking to its guns and stubbornly defying trends. At Ram, fashion is function, and the function has been working just fine.
However, even the most classic of icons can benefit from an upgrade. Ram will be releasing an all-new, fully redesigned 2500 HD truck sometime in early 2019; more on that later.
Exterior color options in dozens of shades
You may not think of the heavy-duty pickup as being a particularly personable vehicle, but the Ram 2500 lets you mix, match, and meddle until you've created a look that's perfect for you.
There are almost two dozen colors to choose from, including Delmonico Red, Black Forest Green, Brilliant Black, Granite Crystal, True Blue, Bright Silver, and New Holland Blue--and those are just the basic production colors. If you want to get really fancy, you can custom-order a truck with any one of a few dozen more "low-volume" colors, that range from baby blues to neon greens to farmer oranges.
Trim levels and features
But, your options don't stop there--once you've picked a color palette, you can wade through a huge list of features and options in Ram's seven different heavy-duty trim levels: the fully loaded Limited, the iconic musclebound Power Wagon, the premium Laramie Longhorn and Laramie, the swaggering Big Horn, the basic SLT, and the affordable Tradesman.
Body styles and dimensions
And once you've narrowed that down, there's even more to think about: Regular Cab, Crew Cab, or Mega Cab? Regular 6' 4" truck bed or long 8' 0" bed? All told, there are hundreds of ways to combine options and to make the perfect Ram 2500 for what you're looking for.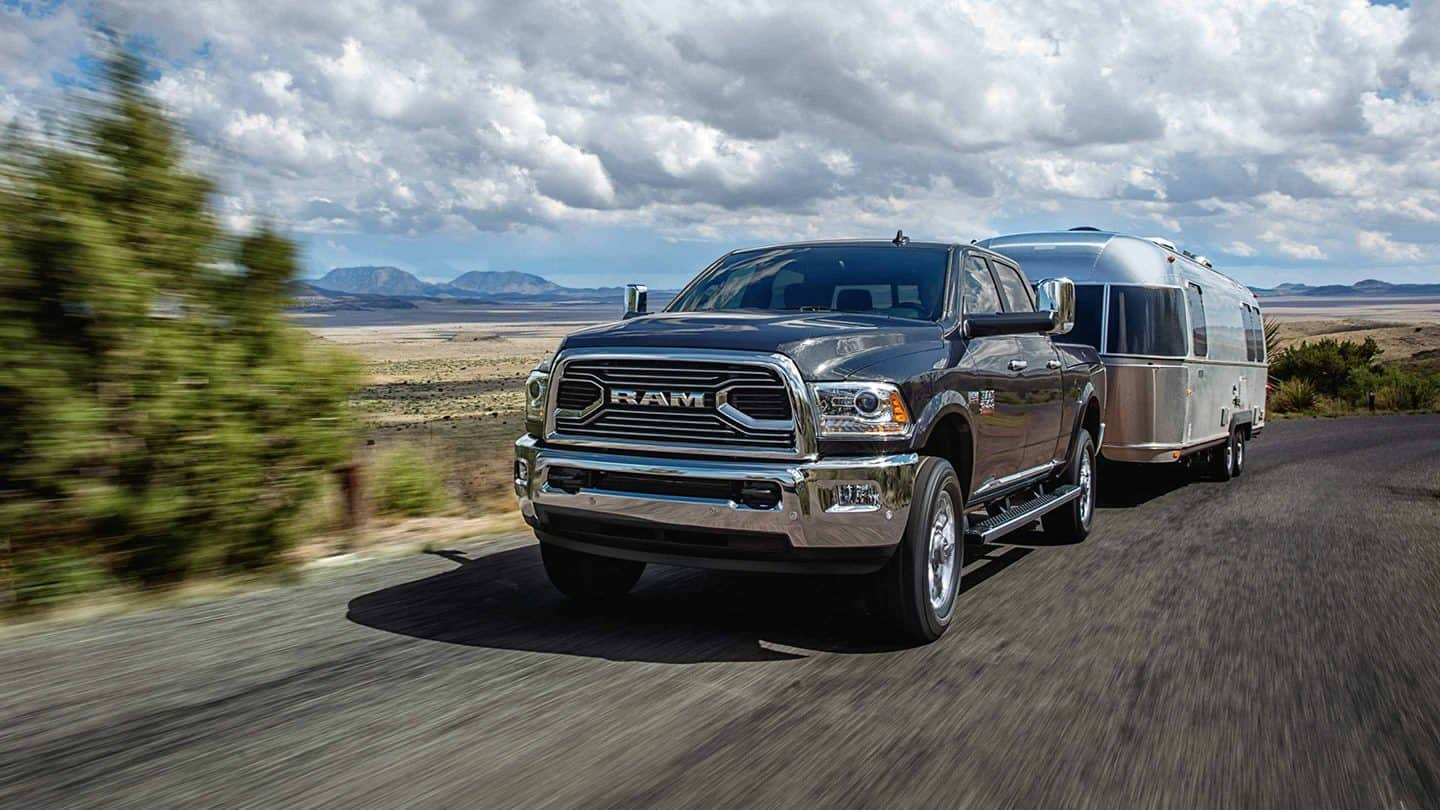 An all-new Ram 2500 HD 
The market doesn't know much yet about the upcoming, all-new, first-in-a-long-time Ram 2500 generation, because the company is keeping a pretty tight lid on details before the grand release--it's not even clear whether we're looking forward to a 2019 Ram 2500 or a 2020 Ram 2500.
Regardless of model year, though, we can expect to see huge changes that will likely be similar to those that came out with the release of the recent 2019 Ram 1500: major tech upgrades, luxurious cabin redesigns, new options, and a whole new look.
Engine options and specs
There are three engine options available for the new 2018 Ram 2500, ranging from a more practical V8 up to a hefty turbodiesel. Each option is versatile, offering a unique approach to pickup performance and power.
The base 5.7L HEMI® V8 engine is the most common engine that you'll find on your typical everyday Ram 2500 truck. It's good for 383 horsepower and 400 pound-feet of torque, can carry up to 3,060 pounds (dependent on configuration) and can tow up to 13,890 pounds. It even gets decent fuel economy for a truck this size--at least, based on crowdsourcing estimates. Due to some aging rules about farm trucks and a little bit of budget-pinching, manufacturers have never been required to list MPG ratings for HD trucks.
The second-most powerful powertrain option is a 6.4L HEMI® V8 engine, making best-in-class gasoline 410 horsepower and boasting 429 pound-feet of torque. This combination (when on properly equipped trucks) offers the ability to tow up to 16,320 pounds and a payload capacity of just under 4,000 pounds. If you'd like specific ratings for different configurations, Ram's Online Towing Guide is a great resource.
At the top of this food chain sits a massive 6.7L Cummins® Turbo Diesel Six-Cylinder engine. Making 370 horsepower and 800 pound-feet of torque, its 17,980-pound tow rating is one of the highest in its class, and its 3,160-pound payload rating ensures an easy ability for farmers, contractors, and other heavy-duty workers to get the power they need. A class-exclusive Smart Diesel Exhaust Brake shows a smarter side to this brawny beast.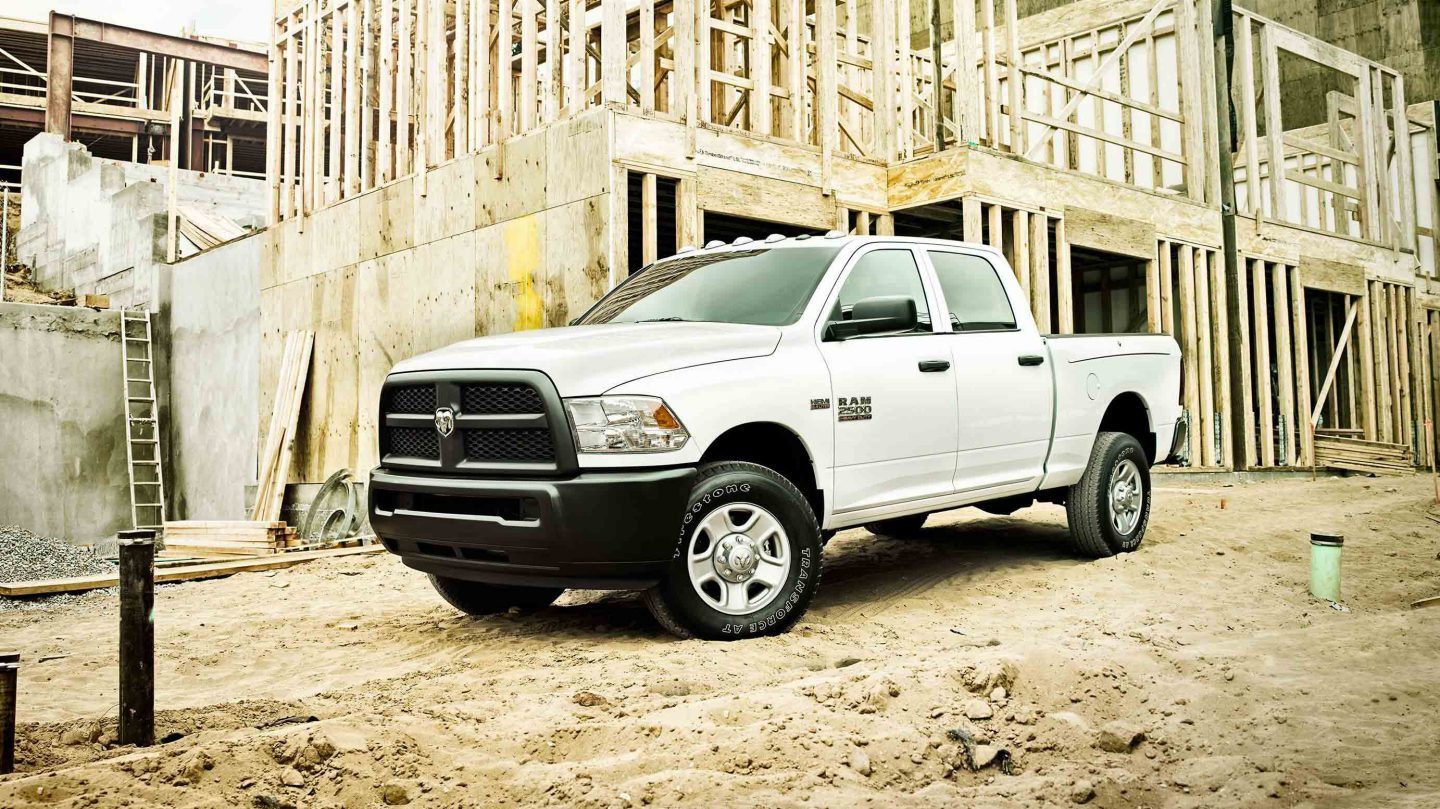 The Ram 2500
The Ram 2500 may be ready for this long-awaited upgrade, but the 2018 model still has plenty to offer.