Say no to boring family SUVs--the Dodge Durango is unlike any other three-row crossover
There's a beautiful thing about the unexpected.
In the hum-drum of daily life and the boring monotony of a nine-to-five, the unexpected can be just what you need to spice things up--it can be a way to turn boring on its head, to add a burst of excitement to your schedule, and to re-live the glory days of pure, blissful, worriless youth long into your mid-years. It might be this quiet thrill of the unexpected that's made the Dodge Durango such a popular SUV option.
It's a lot bigger than your usual three-row SUV--but its contoured styling means that it's smaller than the extra-hulking full-size SUVs that take up too much space in the driveway. The Durango is almost a standalone in a whole different class, not fitting into one class or another; now, that's unexpected.
From its signature racing taillight bar, to its aggressive and distinctive front fascia, the Durango is an unexpected change of pace in the midsize SUV world--but its looks are a well-known classic.
Style background
The first Durango arrived on-scene in 1997. This late-90s crossover looked quite a bit like the modern vehicle that we know now, with similar muscling and powerful lines. But lookalikes are kind of Dodge's thing: think of the Challenger, the Charger, the Viper. Dodge likes to brew up a perfect recipe--and then stick to it for as long as possible. For some auto brands, that would be a recipe for disaster. But, Dodge makes it work.
There was one big style change that the Durango saw in its lifetime: the original, late-90s Durango was built on a body-on-frame platform that other large SUVs, and pickup trucks, were engineered. A body-on-frame platform is optimal for maximizing strength and sturdiness, but it made for a rougher ride--which would bump the Durango off the shopping list of many families looking for a comfortable ride for the kid.
But, Dodge got wise before the introduction of the third-generation Durango in 2011, and redesigned the three-row SUV on a modern unibody platform. This made it a smoother, more comfortable, and more efficient option, and the new carlike feel of this heavy-duty family hauler allowed it to become a tough new rival against smaller and less-capable crossovers.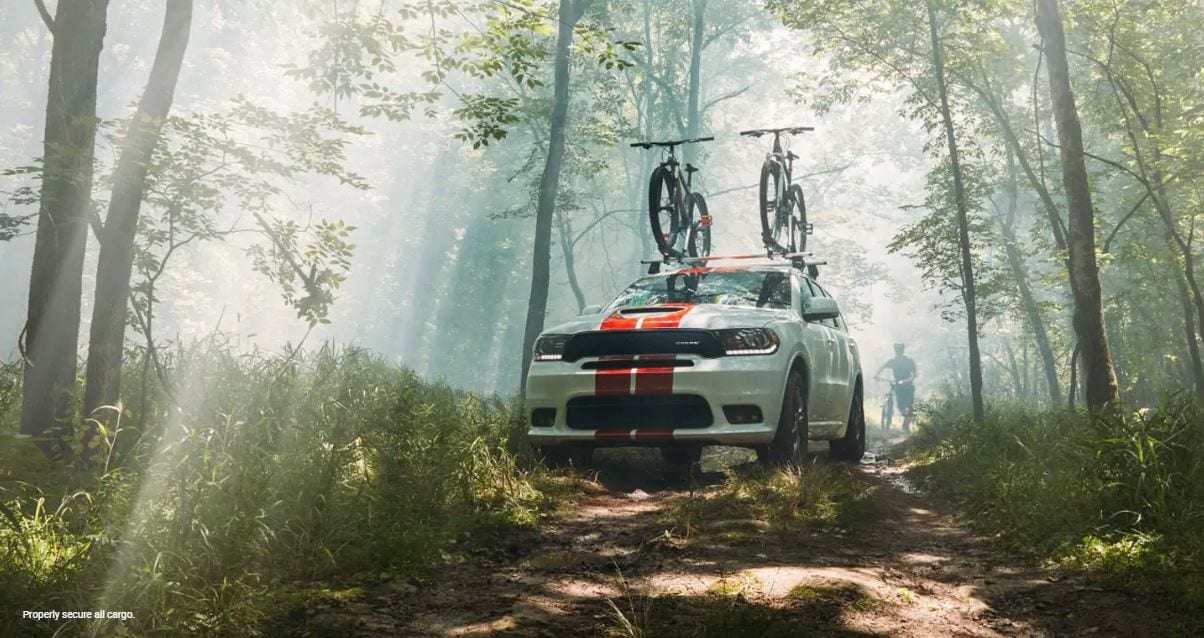 Engine power and performance
Get more. The Dodge Durango comes standard with a 3.6-liter V6 engine and an eight-speed automatic on its base and mid-range SXT, GT, and Citadel trim levels--this hefty powertrain is good for 293 horsepower and 260 pound-feet of torque, which feels strong and powerful without being over-the-top in fuel consumption. That means that for mild-mannered families who want to cut loose every now and again, this well-muscled SUV is both potent and practical.
But, if practicality puts you to sleep, you could upgrade your Citadel--or just jump right into it and choose the Durango R/T--for 360 horsepower and 390 pound-feet of torque from a performance-tuned 5.7-liter V8 engine. While the Citadel is a little more geared toward cushy comforts and niceties, the R/T adds track-inspired goodies like upgraded steering system, a sport-tuned suspension, a performance hood design, LED fog lights, and red accent stitching in the interior. A family SUV with a V8? You bet your premium-octane gas the Durango has a V8.
If you think that's all, though--you don't know Dodge. If you think Dodge would stop at a 360-horsepower V8 engine, take a step back to drink in the sheer magnitude of the Durango SRT: a full-blooded, stars-and-stripes American SUV with 475 horsepower and 470 pound-feet of torque from a mammoth 6.4-liter V8 engine. Honestly, the world wouldn't be surprised at this point if Dodge soon trotted out a Durango SRT Hellcat.
Even more honestly? The world would love it if it did.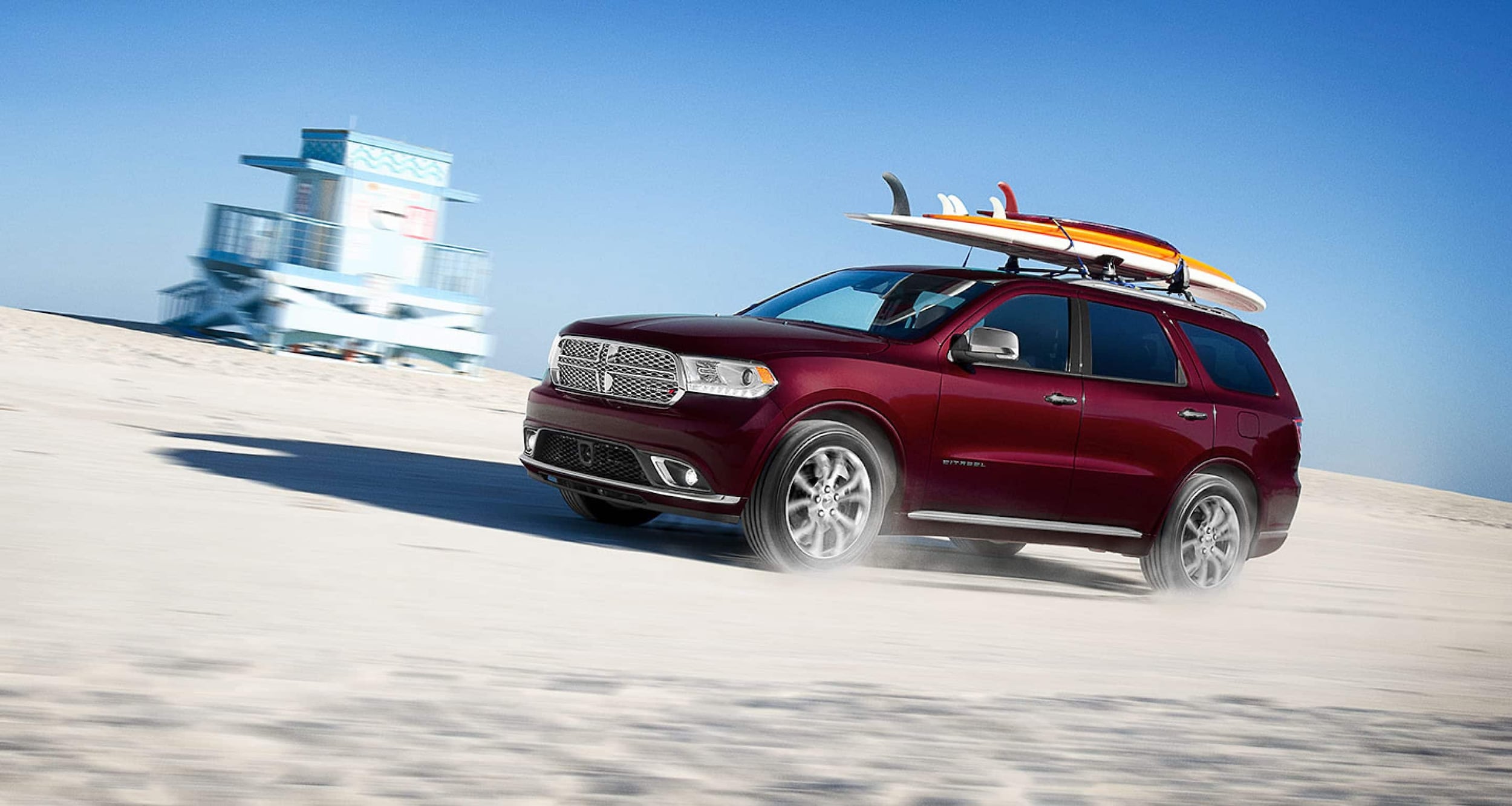 A tow rating of more than 8,500 pounds
Now, there are some folks out there who really do put their SUVs to work--not only hauling the family, some friends, or a whole lot of cargo, but hauling gear and equipment behind. Good news for you: the base Durango can tow up to 6,200 pounds when properly-equipped, and the jaw-dropping Durango SRT, with standard all-wheel drive and standard V8, can tow up to 8,600 pounds. That's best-in-class by quite a bit.
Body styling and color options
The Durango is the longest and the tallest SUV in its class--it misses the "full-size" category dimensions by only a few inches in any direction, but that makes all the difference. It finds a happy medium between the city-friendly agility of a midsize crossover, with the mammoth interior capabilities and seating capacity of a much larger SUV. The broad body style makes it easy to configure the Durango easily inside--in fact, Dodge claims that this crossover offers more than 50 available seating configurations, with a max cargo capacity of up to 84.5 cubic feet.
Blacktop or Brass Monkey appearance packages, SRT performance design, and Dodge-exclusive paints let you personalize and emphasize your ideal style. Exterior colors for the Durango include Billet Metallic, DB Black Crystal, White Knuckle, Granite Metallic, Vice White, Bruiser Grey, Octane Red, and Stout Brown.
Is the Durango right for you?
The Dodge Durango is stuffed to the brim with comfort and tech features; its huge seating spaces make it ideal for families, but its configurable cargo spaces make it just as perfect for individuals who need to keep up with a versatile lifestyle. The Durango boasts a great, secure warranty, but its safety feature availability leaves a bit to be desired. It looks great, feels great, and drives great.
If you want the convenience, flexibility, and room of a minivan--but you just can't settle for one--the Dodge Durango is a really tempting option, and deserves some serious consideration.